---
Posters of the 1989 Velvet Revolution
The brand new publication Posters of the 1989 Velvet Revolution contains reproductions of 47 posters from November and December 1989, and the stories surrounding the creation of the posters are captured in interviews with 13 poster creators. The book has 144 colour pages, measures 21×21 cm and is published in Czech and English.
Posters of the Velvet Revolution marks the 20th anniversary of the events that led to the fall of the communist regime in Czechoslovakia. The posters and flyers that hung on nearly every street corner and important place in Czech cities created an indelible backdrop for those revolutionary days. Most of them were hand-drawn or painted, but nevertheless, only a few days after 17 November, a number of the posters printed under semi-legal circumstances were produced in large editions using offset or screenprint technology. Some were made by anonymous creators, but others were by experienced artists, including Aleš Najbrt, Michal Cihlář, Pavel Šťastný, Rostislav Vaněk, Ivan Král and František Skála.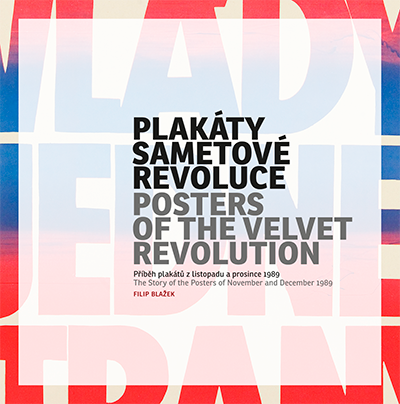 Context is added by enlightening essays by design theoretician Iva Knobloch and historian Jiří Suk. The atmosphere of November and December 1989 is recalled in pictures by leading Czech photographers Tomki Němec, Karel Cudlín, Miloš Fikejz and Pavel Štecha, which capture the transformation of grey Czech cities into brightly coloured areas for postering.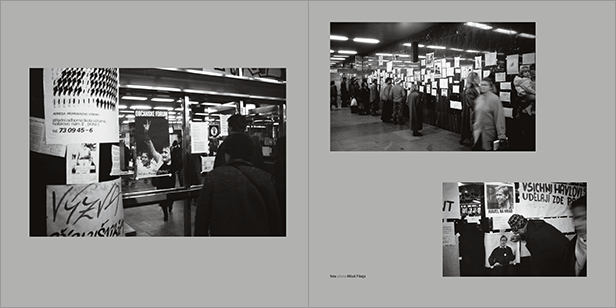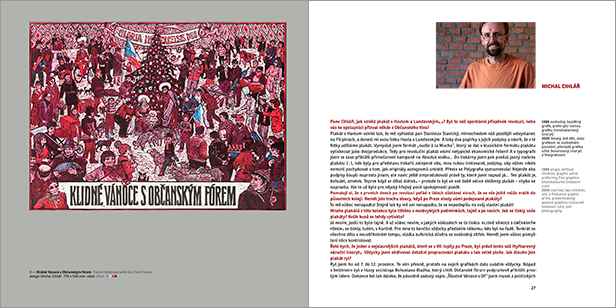 The book was put together by graphic designer Filip Blažek, who personally collected the posters at the end of 1989; as a student, he helped out at Prague's Mánes art gallery, which overnight became one of several informal centers of opposition to the totalitarian regime.
Filip Blažek presented his poster collection during the ATypI conference in Mexico. The book was officially announced by Michael Kocáb, Minister of the Government of the Czech Republic for Human Rights at Straka Academy, the seat of Czech PM.

Published by Prague's XYZ Publishing House. Sold out.
---