---
Typo 45 – autumn 2011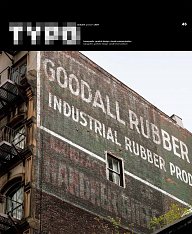 TYPO 45 features an interview with Israeli artist David Tartakover. Check the latest fonts from students of KABK, enjoy the vernacular typography from NYC or read a review of the ATypI conference in Reykjavík.
typo.interview
The impartial observer
with David Tartakover
Interview with an Israeli designer whose poster art has charted the Middle East peace process and Israeli-Palestinian conflict.
typo.education
Type]Media 2010–2011
Type]Media
Gallery of the results of the Type]Media course at the Royal Academy of Art in The Hague, in which twelve students scribbled, chiselled, sketched, revived, live-traced, wrote, fontlabbed, doodled, interpolated, coded and pixelled for nearly a year.
typo.opinion
Typographic categories
Víctor García
Contemplations on typographic categories called dingbats, pi fonts, symbol fonts and non-alphabetics.
typo.tools
Forgotten kerning
Filip Blažek
Overview of important kerning pairs that are often lacking in fonts, making it difficult for designers to use specific fonts without running into problems.
typo.project
The ghost signs of Brooklyn & Manhattan
Molly Woodward
Essay on vernacular typography in New York City, where the first sign painter used brick buildings as their canvases.
typo.action
Whales and puffins. ATypI 2011
Filip Blažek
A report on this year's ATypI conference held in Reykjavík, Iceland. The conference theme was the Icelandic letter eth, ð.
typo.bazaar
A selection of essential books on graphic design
Pavel Noga
Review of the Polish anthology Widzieć / wiedzieć, in which the authors have collected "the most important ideas″ in graphic design from the early 20th century up to the present.
---